Mark S. Adams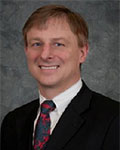 Director, Principal Architect of Networks and Communications
Information Systems Sector
Office of the Chief Technology Officer
Northrop Grumman Corporation
Mark Adams is a graduate of Johns Hopkins University Advanced Physics Laboratory with a Masters of Science in Electrical Engineering (MSEE).
More
Mr. Adams is currently on staff working for the Vice President Technology and Engineering Group (TEG) of Northrop Grumman Information Systems (NGIS) Sector Dr. Neil Siegel. Mr. Adams designs complex network and communications architectures in support of critical Northrop Grumman customer requirements. He has more than twenty eight years experience in the design, development, and integration of complex communication and sensor system architectures, including mobile broadband, underwater systems, satellite systems, and most recently tactical wireless networks.
In 2000, Mr. Adams joined Northrop Grumman TASC to pursue business opportunities developing new broadband communications architectures for government customers. As a member of the TASC team he worked in the R&D program to develop new mobile wireless systems designs for improving federal, state, and local data mission operations. His research has led to, among other significant projects, the development of the Citywide Mobile Wireless Network for public safety in New York City (NYCWiN), the first private mobile broadband system of its type in the world.
Mr. Adams served as Northrop Grumman Corporation's representative to the Wireless Communications Association International (WCA) Executive Committee. In addition, Mr. Adams has spoken to large industry and customer groups (IWCE, APCO, AFCEA, etc.) on topics ranging from spectrum policy to technical communication architectures. Mr. Adams presently serves as Northrop Grumman lead sector architect for communications systems ranging from Public Safety systems to Department of Defense communications. Recently, Mr. Adams served as the NPSTC Broadaband Working Group (BBWG) Security Task Group (STG) lead, working to define requirements for security of the future public safety broadband network (FirstNet).
As a complement to his work in communications he also developed significant experience with the cyber threats and technology impacting future communications. Mr. Adams recently assisted the Northrop Grumman Intelligence Systems Division with the deployment of a United Kingdom Federated Cyber Range. This cyber simulation platform provides critical resources to Northrop Grumman and their customers in Europe as well as NATO partners with development of important cyber security archtectures and technologies impacting their networking and communication systems.
Current Interest Areas:
Performance and analysis of candidate high speed wireless technologies ( LTE, WiMax, OFDM, WiFi, UMTS, CDMA, etc.)
Cyber & Wireless Security architectures and platform requirements (both mobile and fixed)
Applications integration into high-speed mobile networks
Spectrum and public policy impacting Homeland Security
Richard Coupland III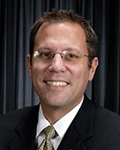 Director, Public Safety Market Development
General Dynamics C4 Systems
As director of Public Safety Market Development for General Dynamics C4 Systems, Coupland leverages unique capabilities from across the company and industry and migrates them into the public safety sector.
More
Chief among his business development priorities is bringing purpose-built LTE capability, as well as any desired applications from across the technology industry, to public safety communications.
Coupland's leadership in launching new capabilities has led to the creation and use of GeoSuiteTM, a software tool that brings intelligence and operational efficiency to first responders and Deployable Event Management Systems offering FirstNet-compatible deployable networks with situational awareness that harnesses the power of multiple data feeds to deliver real-time actionable intelligence to commanders and patrol officers.Prior to this position, Coupland served the company as director of Science, Technology and Products for Battle Management Systems, where he was responsible for conducting research and development that transitioned into enduring capabilities for military and commercial users.
Coupland is also the founder of the EDGE® Innovation Network, a nationwide network for innovation and technology centers where industry, academia and government collaborate to accelerate and integrate new technology and capabilities for warfighters and first responders. General Dynamics C4 Systems is the lead technology partner for the EDGE.
Coupland joined General Dynamics in 2003 after holding various positions with Motorola, Inc. including staff engineer and project lead for the airport systems integration program at Inchon International Airport in South Korea.
Coupland received his Bachelor of Science degree in Mechanical Engineering from the Virginia Military Institute in Lexington, Va., and his Masters degree in Business Administration from the W.P. Carey School of Business at Arizona State University in Tempe, Ariz. He currently serves on the Men's Board for Fresh Start Women's Foundation in Phoenix, Ariz.
Don Denning
Public Safety CIO
CIty of Boston
Don served as the City of Boston's Public Safety Chief Information Officer from May 2008 to just recently.
More
During his tenure with Boston, Don has lead a variety of public safety technology projects including replacement of the City's computer-aided dispatch and records management systems, installation of a citywide public safety broadband wireless network, upgrades of the land mobile radio systems to support interoperability, data, narrow banding, mobile computing, and other new and leading edge technology investments.
Don also has served as a member of the Massachusetts Statewide Interoperability Executive Committee, the Department of Homeland Security's Regional Emergency Communications Coordination Working Group (RECCWG) and has been a member of the National Public Safety Telecommunications Council's Broadband Task Force and the Assessment of Future Spectrum and Technology Working Groups. He has presented numerous papers to public safety and technology groups including the Institute of Electrical and Electronics Engineers (IEEE), APCO and IWCE. Don transitioned to the public sector after working for two decades in the private sector as a Member of the Research Staff at HP Labs, Intel, Compaq and Digital Equipment Corporation where he was awarded several patents in communications and medical technology.
Eric Hagerson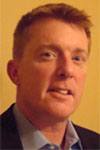 Senior Regulatory Affairs Manager
T-Mobile USA
Eric Hagerson is Senior Regulatory Affairs Manager for T-Mobile USA, a nationwide, full service, mobile communications provider.
More
Mr. Hagerson has over 14 years of experience in the telecommunications industry. His career background in the field is varied and includes network design and implementation, contract negotiation and vendor development. Mr. Hagerson has consulted on interconnection and intercarrier compensation issues and was T-Mobile's representative to the Intercarrier Compensation Forum. He spearheaded T-Mobile's federal AWS-1 spectrum clearing efforts which achieved early access to nearly all of the company's $4.2 billion in AWS-1 licenses; as a result of this work, he was awarded the T-Mobile Summit Award.
Currently, Mr. Hagerson's policy portfolio is diverse. He is responsible for T-Mobile's Public Safety and 9-1-1 federal advocacy efforts, including chairing the FCC's Communications, Security, Reliability and Interoperability Council's Working Group 1 Subcommittee on Text to 9-1-1 location determination. He is also active in NTIA's Commercial Spectrum Management Advisory Committee's efforts to identify further federal spectrum for reallocation or sharing opportunities, serving as chair of the Transition Implementation Priorities Subcommittee in Working Group 2. Other issues under Mr. Hagerson's purview include signal boosters, contraband devices and interoperability.
Mr. Hagerson received his Bachelor of Arts from the University of Pennsylvania where he was a member of Phi Beta Delta, the Honor Society for International Scholars. He holds a Masters of Business Administration summa cum laude from the University of Maryland-University College and a Project Management Certificate from The George Washington University. He is a member of the Association of Public-Safety Communications Officials, National Emergency Number Association, NG9-1-1 Institute, Federal Communications Bar Association and Alliance for Telecommunications Industry Solutions – Emergency Services Interconnection Forum.
Jason Hutchens
Solution Sales Engagement Manager
Motorola Public Safety (Central Region)
Before becoming the Solution Sales Engagement Manager – Public Safety (Central Region) reporting to Mr. Gregory , Jason Hutchens was the Director of the Planning and Assessment Division of the Indiana Department of Homeland Security (IDHS).
More
The Planning and Assessment Division has oversight over all planning for the agency, technology and oversees the agencies responsibilities as the SAA for US DHS grant funds to the State of Indiana. As Director of Planning, Jason oversaw comprehensive planning assessment; assisted in the development of a single, statewide strategic, operational and tactical plan; and served as a member of the agency executive staff and as a member of the policy group during any state disaster emergency response or activation. As a part of these efforts Jason specifically coordinated and provided leadership for both the state's cyber security framework development as well as a 21 organization data sharing effort called the Indiana Data Exchange (IDEx), which has been held as a national best practice.
Member, Board of Directors for the Justice Information Sharing Practitioners (JISP) Network (January, 2008 – 2012, funded by the US Department of Justice). JISP provides national leadership on data interoperability, architecture and national standards such as the National Information Exchange Model (NIEM).
State representative to the US Department of Homeland Security NIEM Program Office – State and Local Workgroup (2011 – 2012)
2003 – United States Department of Justice National Achievement Award for the Most Innovative Use of Technology in Law Enforcement
Jason is also an Associate Fellow with the Sagamore Institute for Policy Research in Indianapolis—an applied research "think tank" that specializes in a wide variety of public policy issues—as well as an associate faculty teaching both undergraduate and graduate courses for the School of Public and Environmental Affairs at Indiana University – Purdue University at Indianapolis.
Jason is an attorney and was admitted to the Indiana Bar in 2002. He received his doctor of jurisprudence from Indiana University School of Law in Indianapolis in May 2001 and his bachelor's degree in public affairs from Indiana University in 1998.
Recent Publications:
Hutchens, Jason (Co-Author/Contributor) for the McGraw-Hill Homeland Security Handbook, 2012: Strategic Guidance for a Coordinated Approach to Effective Security and Emergency Managemen
Hutchens, Jason and Vidali, Ari (2011) Pervasive Readiness: Pipedream or Possible? http://www.sagamoreinstitute.org/mediafiles/pervasive-readiness.pdf
Richard Mirgon
Public Safety Consultant
Richard Mirgon has over 35 years of service in public safety communications.
More
He has over five years of service as a member of the Executive Committee for the Association of Public Safety Communications Officials (APCO), and as a member of the Public Safety Alliance he was a leading advocate for public broadband network development. Serving in these capacities has enabled him to gain an improved understanding of how private wireless carriers can bring increased value to public safety networks.
Robert A Mitchell, CFO, FPEM, ILO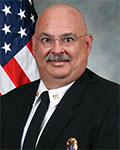 Asst. Chief – Emergency Services Operations
Reedy Creek Improvement District (WDW)
Currently serving as the Assistant Fire Chief of Operations, Emergency Manager & Command Technology Specialist, with responsibilities for personnel management, continued safety development, policy development, department Incident Safety Officer assignments, Operations, Special Operations, Emergency Medical Services Emergency Management, High Risk Incident Command and Fire Prevention.
More
Additionally, he is serving as a District-wide point of contact for first reports of injury and exposure. He is the Department's representative to the East Central Florida Emergency Planning Council and a certified Professional Emergency Manager. Chief Mitchell represents the Reedy Creek Emergency Services on several Boards and Agencies, nationally and throughout Florida. 

Chief Mitchell started with Reedy Creek as a Paramedic Firefighter.
Chief Mitchell started with Reedy Creek as a Paramedic Firefighter in 1989. His first promotion was to Captain of Technical Services where he was responsible for the entire Department's equipment as well as forming & chairing the first Safety Committee. 

Promoted to Assistant Chief, he has been responsible for the early development of the Special Operations and Response Team (SOAR) as well as overseeing Training, EMS, Emergency Management & Incident Command.
Chief Mitchell has served in some capacity in every section of the Department in his 25 year career there, and has a well-rounded view of its function and operations. Additionally, Chief Mitchell is currently serving as a representative to the East Central Florida Emergency Planning Council, Recovery, Planning Section Chief – Florida 6 Disaster Medical Assistance Team (HHS/ASPR/OPEO/NDMS) & State Medical Response Team for Region 5, AMTS Site Evaluator – State of Florida, Department of Health, Intelligence Liaison Officer – Central Florida Intelligence Exchange and He is also a member of the State RDSTF IMT Gold Team (Region 5).
The Honorable Ajit Pai


Commissioner
Federal Communications Commission
Ajit Pai was nominated to the Federal Communications Commission by President Barack Obama and on May 7, 2012 was confirmed unanimously by the United States Senate.
More
On May 14, 2012, he was sworn in for a term that concludes on June 30, 2016.
Commissioner Pai's focus is on creating a regulatory environment in which competition and innovation will flourish, thus benefitting American consumers. He believes that it is vital for the FCC to adopt policies that will give private firms the strongest incentive to raise and invest capital; to develop new products and services; and to compete in established and new markets. Specifically, Commissioner Pai is working to remove uncertainty that can deter businesses and investors from taking risks, to revisit outdated regulations, and to set clear, modernized rules for the road. These steps will result in consumers enjoying better products at lower prices and the communications industry contributing to faster economic growth and more job creation.
Commissioner Pai also believes that the FCC must act with dispatch to reflect the pace of change in today's marketplace. Faced with an industry as vibrant and dynamic as today's communications sector, the Commission must be careful not to cling to twentieth century approaches in addressing the technological landscape of the twenty-first century. Thus, for example, it is a priority of Commissioner Pai to increase promptly the availability of spectrum for high-value uses.
Commissioner Pai's regulatory approach has been shaped by his decade and a half of experience in communications, law, and policy.
Between 2007 and 2011, Commissioner Pai held several positions in the FCC's Office of General Counsel, serving most prominently as Deputy General Counsel. In this role, he had supervisory responsibility over several dozen lawyers in the Administrative Law Division and worked on a wide variety of regulatory and transactional matters involving the wireless, wireline, cable, Internet, media, and satellite industries.
Commissioner Pai's career outside of the FCC has spanned the private and public sectors. With respect to the private sector, Pai worked in the Washington, DC office of Jenner & Block LLP, where he was a Partner in the Communications Practice until being sworn in as a Commissioner. Years earlier, he served as Associate General Counsel at Verizon Communications Inc., where he handled competition matters, regulatory issues, and counseling of business units on broadband initiatives.
Commissioner Pai also has served in all three branches of the federal government. After moving to Washington, DC in 1998, his first post was with the United States Department of Justice's Antitrust Division as an Honors Program trial attorney on the Telecommunications Task Force. There, he worked on proposed mergers and acquisitions and on novel requests for regulatory relief following the enactment of the Telecommunications Act of 1996. He later returned to the Department of Justice to serve as Senior Counsel in the Office of Legal Policy. Pai has worked on Capitol Hill as well, first as Deputy Chief Counsel to the United States Senate Judiciary Committee's Subcommittee on Administrative Oversight and the Courts, and later as Chief Counsel to the Senate Judiciary Committee's Subcommittee on the Constitution, Civil Rights, and Property Rights. Immediately following law school, he clerked for the Honorable Martin L.C. Feldman of the United States District Court for the Eastern District of Louisiana.
Commissioner Pai received a B.A. with honors from Harvard University in 1994 and a J.D. from the University of Chicago in 1997, where he was an editor of the University of Chicago Law Review and won the Thomas J. Mulroy Prize. In 2010, Pai was one of 55 individuals nationwide chosen for the 2011 Marshall Memorial Fellowship, a leadership development initiative of the German Marshall Fund of the United States.
The son of immigrants from India, Commissioner Pai grew up in Parsons, Kansas. He now lives in Arlington, Virginia, with his wife, Janine, son, Alexander and daughter, Annabelle.
Mike Roskind



Deputy Director
National Coordinating Center for Communications, National Cybersecurity and Communications Integration Center, US Department of Homeland Security
Mike Roskind is currently the Deputy Director of the National Coordinating Center for Communications, one of the three primary operational components within the National Cybersecurity and Communications Integration Center (NCCIC), which is responsible for federal coordination of Emergency Support Function-2 (ESF-2 Communications) under the National Response Framework, supporting the Stafford Act.
More
Joining Department of Homeland Security (DHS) in 2007 he assumed the duties of Deputy Director, Office of Emergency Communications (OEC), serving as the Acting Director of OEC, and then served as Deputy Director, Outreach and Coordination, for the National Command and Coordination Capability (NCCC) within the Office of Cybersecurity and Communications.
Mr. Roskind helped lead ESF-2 coordination for Hurricane Sandy, Isaac, Irene, the American Samoa Tsunami and supported the DHS response to the 2010 Haitian Earthquake. He was awarded the 2010 Association of Public Safety Communications Officials, International (APCO) President's Award for leadership in his support of Haiti's restoration of public safety communications. In 2010 he also served as the Operations Chief for the NCCIC during the national cyber exercise 'Cyberstorm III'.
Working closely with APCO and NENA Mr. Roskind has been coordinating the federal government's response to international Telephone Denial of Service extortion attacks (TDoS) against public safety and developing strategies for integrating technical support to state-local-tribal governments in the event of disaster level effects of a cyber-attack, under Stafford Act authorities.
A 1982 US Naval Academy Graduate and retired Snohomish County Deputy Sheriff and Seattle Police Officer, Mr. Roskind earned his Master Degree in Strategic Planning from the University of Washington and was an elected City Councilman in the City of Woodinville Washington, while he has been an active member of APCO for over ten years.
Admiral David Simpson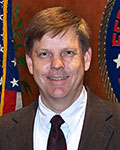 Public Safety and Homeland Security Bureau Chief
Federal Communications Commission
Rear Admiral (ret.) David Simpson was appointed Chief of the Federal Communications Commission's Public Safety and Homeland Security Bureau in November 2013.
More
As Bureau Chief, he oversees public safety, homeland security, emergency management, cybersecurity, and disaster preparedness activities at the FCC. He works with public and private partners and through the rulemaking process to deliver state-of-the-art communications that are accessible, reliable, resilient, and secure, and to help ensure that communications networks meet the public safety needs of Americans during emergencies. He brings to this role more than 20 years of Information and Communications Technology experience supporting the Department of Defense, working closely with other agencies to provide secure communication services and improve cyberdefense readiness.
Admiral Simpson served previously as the vice director of the Defense Information Systems Agency (DISA). In that capacity, he helped lead an organization responsible for planning, developing and providing interoperable global communications for the Defense community. He also served as a senior delegate to the 2012 ITU World Radio Telecommunications Conference and to the World Conference on International Telecom (WCIT).
From 2009 through 2010, as Director for Communications and Information Services for U.S. Forces Iraq in Baghdad, he synchronized strategic and operational-level communications for U.S. Forces and assisted the Government of Iraq in building capacity for the information and communications technology sector. Simpson's extensive career includes assignments with responsibility for networks, IT, and crisis communications for afloat and other deployed forces in Europe, Africa, Asia, and South America.
Simpson is a native of Burbank, California and a 1982 graduate of the United States Naval Academy. He earned a master's degree in systems technology from the Naval Postgraduate School.