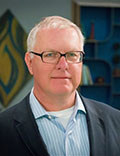 Fred Engel
Senior Director of Technology, UNC-TV
Fred Engel has been in the broadcast engineering business since graduating from Ferris State University in 1978. He spent 27 years at WTTW Chicago rising from an engineering maintenance technician to Vice President of Technology.
More

He spent nearly three years with a Systems Integration firm in Chicago as Vice President of Broadcasting working with their sales team on system proposals. In 2010 he joined Kentucky Educational Television as Senior Director of Technology and in 2016 took a similar role with UNC-TV in Research Triangle Park, North Carolina. Fred and his team received a Midwest Emmy award for the design and construction of WTTW's Digital Broadcast Operations Center. He holds a Certified Professional Broadcast Engineer certification with the Society of Broadcast Engineers.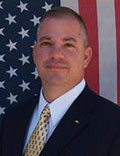 Jay English
Public Safety Program Manager, US Department of Homeland Security, National Cybersecurity and Communications Integration Center (NCCIC), National Coordinating Center for Communications (NCC)

Jay has over 30 years of Public Safety and technology experience. He is a veteran of the United States Air Force and United States Marine Corps, having served in Electronic Warfare and Intelligence billets.
More

Jay has served in Police, Fire, EMS and Public Safety Command Staff positions and his experience includes Patrol, Investigations, and Command of three consolidated 911 Communications centers, Law Enforcement patrol divisions, and a County Detention facility. He served for four years as the Director of Communications Center and 9-1-1 Services for the Association of Public Safety Communications Officials (APCO). He is currently employed as a Public Safety Program Manager for the US Department of Homeland Security, working in the National Coordinating Center for Communications (NCC).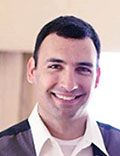 Jared Hertzler
Director, Technical Sales, Comtech Telecommunications Corp.
Jared Hertzler brings more than 17 years' experience to his role as director of technical sales at Comtech's Safety & Security Technologies (SST) division. At Comtech, he is responsible for supporting sales efforts associated with SST's product portfolio, including: Wireless, VoIP, VoWiFi, VoLTE routing of 911 calls, support of Text to 9-1-1, Indoor Location, Address Validation, and Emergency Services Next Generation Core Services functionality.
More
A significant portion of his time is spent interacting with current and prospective customers, explaining Comtech's solutions and obtaining feedback to enhance SST's product capabilities.
Having a view from inside the telecommunications industry allows Jared to recognize the technical and business challenges associated with mobile communications, data, network infrastructure and NG9-1-1 deployments. Comtech is an industry leader in NG9-1-1, and Jared provides insight into past and present issues, solutions, and industry direction. Pertinent topics in today's deployments are ESInet connectivity, service provider integration, architectural survivability and security, and location-based routing.
Before serving as director of technical sales at Comtech, Jared held the position of senior product manager for the NG9-1-1 portfolio at Comtech as well as TeleCommunication Systems, Inc., prior to acquisition by Comtech in February 2016. In this role, he was responsible for cultivating partners and customers, managing P&L of hosted and on premise software solutions, and leading RFP/RFI responses. As a technical account manager, he oversaw data mining activities, report generation, call analysis, and building and delivering customer presentations. His previous experience is telecom-centric and includes managing national HLR operations and SS7 signaling networks for AT&T Wireless.
Jared earned a Bachelor of Science degree in Electrical Engineering (BSEE) from the University of Washington.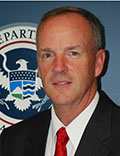 Rear Admiral Ronald T. Hewitt, USCG (Retired)
Director, Office of Emergency Communications, Department of Homeland Security
Ronald T. Hewitt assumed the duties as Director of the Department of Homeland Security's Office of Emergency Communications on November 13, 2012. In this role, Mr. Hewitt plays a critical role for ensuring continuous, interoperable communications that support the Federal Government's mission essential functions and all the Nation's emergency responders to keep America safe, secure and resilient.
More
Prior to becoming the OEC Director, Mr. Hewitt served for six months as the Director and Deputy Manager of the National Communications System (NCS), a consortium of 24 Federal Departments and Agencies responsible for National Security/Emergency Preparedness (NS/EP) communications. The NCS was dissolved on July 6, 2012 in accordance with Executive Order (EO) 13618, signed by President Obama. Various assets of the NCS were merged with OEC to lead NS/EP and emergency communications set forth in Title 18 of the Homeland Security Act of 2002, as amended, 6 U.S.C. § 571 et.seq., and to provide the technical staff to complete DHS responsibilities defined by EO 13618.
Before his arrival to the NCS, Rear Admiral Hewitt served as the U.S. Coast Guard's Assistant Commandant for Human Resources. The Human Resources Directorate is made up of HR professionals, military and civilian, with one distinct mission: to meet the people needs of the Coast Guard while meeting the needs of Coast Guard people.
His prior flag assignments include Commander, Coast Guard Maintenance and Logistics Command Atlantic, which provided support to all Coast Guard units between the Rockies and the Persian Gulf; and Assistant Commandant for Command, Control, Communications, Computers and Information Technology (CG-6), which is the Coast Guard's Chief Information Officer (CIO). During this time, Rear Admiral Hewitt was detailed to the Department of Homeland Security (DHS) as their acting CIO where he led the department's infrastructure technology transformation project.
Rear Admiral Hewitt's other career assignments include Project Manager for "Rescue 21," and the Marine Information for Safety and Law Enforcement (MISLE); Commanding Officer, Electronics Support Unit Boston; Executive Officer, Communications Area Master Station Pacific, Project Engineer at the Omega Navigation Systems Center, Electronics Engineering Center in Wildwood, New Jersey and Operations Officer on the USCGC BITTERSWEET.
Mr. Hewitt, a native of Oregon, is a 1978 graduate of the U.S. Coast Guard Academy with a Bachelor of Science Degree; as well as a 1982 graduate of Purdue University with a Master of Science Degree; both degrees in Electrical Engineering. In 2000, he received a Master's Certificate in Information Technology Project Management from The George Washington University and is a certified Project Management Professional.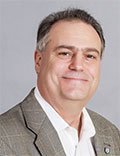 Tim Lorello
President & CEO, SecuLore Solutions
Tim Lorello is President & CEO of SecuLore Solutions, a cybersecurity firm focused on protecting our nation's most important number: 9-1-1! Prior to founding SecuLore, Mr. Lorello spent 21 years at TeleCommunication Systems (TCS), where he served as the company's Chief Marketing Officer and pioneered many 9-1-1 initiatives for wireless, VoIP and NG9-1-1.
More

Prior to TCS, Mr. Lorello worked at AT&T Bell Laboratories for twelve years, specializing in R&D and telecomm platform development. He holds 20 patents, a MSEE from Northwestern University and a BA in Physics from University of Chicago.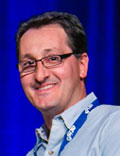 Christian Militeau
Director, Technical Standards, West's Safety Services Division
Christian Militeau is Director of Technical Standards at the Safety Services division of West Corporation. His professional experience includes more than 20 years in the telecommunications industry in the areas of hardware, software, consulting and services.
More
Mr. Militeau's career began in France with Alcatel where he was in charge of Network Systems Engineering. Later, at Telcordia Technologies, he consulted on large telecom consulting projects in the U.S. He was in charge of product management for telecom network equipment during his tenure at Carrier Access. He also served as an executive with nVoq, a start-up telecom software company in Boulder, Colorado. In this role, he was responsible for product strategy and development.
Mr. Militeau joined the Safety Services team in 2005 to lead software systems engineering for the Advanced 9-1-1® services development initiatives. Serving leadership roles for both ATIS and NENA, he has been instrumental in the development of NG9-1-1 standards for the public safety and telecom industry. In 2014, he was the recipient of the ATIS Award for Standards Leadership.
Mr. Militeau has an Electrical Engineering degree from the University of Provence in France, a Master of Science degree in Telecommunications Engineering and an MBA from the University of Colorado at Boulder.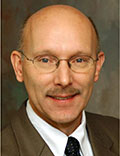 Bill Schrier
Senior Advisor, FirstNet
Bill Schrier is senior advisor to the First Responder Network Authority (FirstNet) where he leads efforts to develop apps, products and services needed by public safety responders. His previous experience includes serving as the Chief Information Officer (CIO) for the Seattle Police Department, senior policy advisor in the State of Washington's Office of the Chief Information Officer (OCIO) and as Chief Technology Officer (CTO) for the City of Seattle.
More
Schrier's previous experience includes serving as the Chief Information Officer (CIO) for the Seattle Police Department, senior policy advisor in the State of Washington's Office of the Chief Information Officer (OCIO) and as Chief Technology Officer (CTO) for the City of Seattle.
He chaired the Washington State Interoperability Executive Committee from 2013 to 2016, which oversees public safety radio networks in the State of Washington. He also served as Washington's State Point of Contact for FirstNet, a nationwide $7 billion effort to build a wireless 4G mobile network for first responders and other public safety agencies.
As CIO for the Seattle Police Department, Schrier oversaw a staff and program to build, operate and maintain technology systems which support this municipal public safety agency of 1350 sworn officers and 2000 total employees.
As CTO for the City of Seattle from 2003 to 2012, Schrier managed a department of 220 professionals and a $59 million budget supporting the technology needs of the municipal government of the City of Seattle.
Schrier holds a Masters of Public Administration (MPA) degree from the University of Washington (Seattle) and a Bachelor of Science (B.S.) in Physics and Math. Schrier is a retired officer with the U.S. Army Corps of Engineers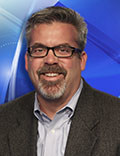 Peter Sockett
Director of Engineering and Operations, Capitol Broadcasting Company
Peter Sockett is the Director of Engineering and Operations for Capitol Broadcasting Company's television stations headquartered in Raleigh, North Carolina. Peter is responsible for leading and steering the technological needs of CBC thru the fast changing digital landscape and watching for the technological trends that his company and the industry need to be ready for.
More
Peter has been instrumental in leading the first commercial HD-TV station, WRAL, into the era of non-linear, file based HD productions, IP delivery and IP-ENG. Career highlights include a total rebuild of the Capitol Broadcasting HD technical plant, launching the first non-linear HD newsroom, developing workflows for IP-ENG, implementing Mobile DTV and Mobile-EAS, creating the first 4K-HDR documentary produced at a local TV station and launching the first commercial, simulcast TV station using the ATSC 3.0 standard.
Additionally, he currently sits on the Board of Directors for the ATSC and is active in many areas of the ATSC 3.0 TG3 specialist groups as well as a member the AWARN Alliance and the NAB's NGBP committee. Industry recognition includes 2 technical Emmy awards, Broadcasting and Cable's Technical Leadership Award and is a co-inventor in a patent for geolocation.
Peter Sockett graduated from Conestoga College in Ontario, Canada and has worked for CTV, CHUM and CBS before landing his dream role at WRAL in 2003.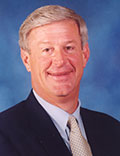 Richard Taylor, ENP
Executive Director, North Carolina 9-1-1 Board
Richard Taylor, ENP, has been intimately involved in 911 issues at the local, state and national levels for more than two decades. Currently serving as the Executive Director of the North Carolina 911 Board, Taylor is the first person to ever hold such a post in the state.
More
Taylor is responsible for assisting and overseeing the 119 primary and 6 secondary Public Safety Answering Points (PSAPs) throughout the state in their emergency 911 preparedness efforts. Taylor has made great strides during his tenure as Executive Director. When he took the post in 2000, there were five counties in the state that did not have enhanced 911 (E911) capabilities. Today, all counties in North Carolina have E911. Taylor was appointed by North Carolina's governor as the State's single point of contact with the Federal Communications Commission (FCC) for all 911 issues.
Prior to his role with the North Carolina 911 Board, Taylor was the Communications Director for the City of New Bern, NC.
One of his greatest contributions to public safety in the state of North Carolina was the passage of North Carolina's Wireless 911 Act in 1998. Taylor was a co-writer, as well as the lead public safety lobbyist, of this bill. He ensured the bill contained provisions that guarantee full cost recovery for PSAPs and wireless carriers alike. North Carolina is one of the only states with full cost recovery.
Currently Richard's work with the North Carolina 911 Board includes guiding them through creation and implementation of a new 911 funding model for PSAPs and at the same time, his leadership has been vital in the process as North Carolina develops its first ever operational standards for 911 PSAPs. Taylor continues to lead the NC911 Board and the PSAP community in the deployment of Next Generation 911.
Taylor has been a long time member of the National Emergency Number Association (NENA), serving as the North Carolina Chapter President in 1997 and as National President in 2003. He has also maintained membership in the Association of Public Safety Communications Officials (APCO) since 1992. In the fall of 2003, Taylor was appointed to serve as the first Chairman of the E-911 Institute, the educational branch of the E-911 Congressional Caucus, and was elected to serve a 2nd term in 2005 and a third in 2010. In 2004, Taylor was appointed Chairman of the ComCare Alliance, a non-profit national advocacy organization of over 100 members, all dedicated to advancing emergency communications. In 2007, Richard was elected to serve as National President of the National Association of State 911 Administrators (NASNA) and was reelected to serve a second term as President in 2009 and a third term in 2011.
Taylor currently represents the State 911 Administrators on the Public Safety Advisory Committee to FirstNet, the first responder network authority created by Congress with the Middle Class Tax Relief and Job Creation Act of 2012.
In between his public life, Richard is the father of one son, two beautiful daughters and his chocolate lab, Chip. An active member of Temple Baptist Church, and has served as an adult Sunday School teacher and Deacon.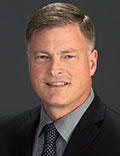 Mike Thorlin
Business Development Manager, LTE Technology and Strategy, General Dynamics
Mike Thorlin is responsible for identifying tactical and public safety long term evolution (LTE) technologies, opportunities and strategic partnerships and managing the associated technology roadmaps within General Dynamics Mission Systems. He also evaluates technology and innovation insertions to enhance the effectiveness of Soldiers, Sailors, Marines, Airmen and First Responders.
More
In addition to his business development and technology evaluation responsibilities, he is a principal Mission Systems subject matter expert on tactical operations, public safety operations, deployable communications systems, battle command systems, wearable computing, and power systems.
Thorlin has more than 20 years of systems engineering and system integration and test experience, including projects for commercial avionics, manned space-flight platforms (International Space Station and Shuttle Orbiter), satellite communications (INMARSAT, Digital Modular Radio), battle command systems (Land Warrior, Tactical Intelligence Ground Reporting System) and tactical 4G LTE broadband systems.
Thorlin also has 18 years of combined Army active and reserve component service, both enlisted (Armored Crewman) and as an infantry officer (Platoon Leader, Company Executive Officer, Company Commander, Aide de Camp, and Joint Staff Operations Officer). Thorlin's military experience includes two combat deployments to Afghanistan in support of Operation Enduring Freedom where he conducted counterinsurgency, maneuver and security operations.
Thorlin earned a bachelor's degree in Systems Engineering from the University of Arizona and a master's degree in Systems Engineering from the Naval Postgraduate School. In addition, he is a member of the Association of the United States Army, the National Guard Association of the United States and the National Infantry Association.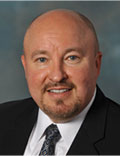 Mark Titus
Lead Product Marketing Manager – Public Safety Solutions, AT&T
Mark Titus, Lead Product Marketing Manager – Public Safety Solutions for AT&T is currently responsible for product marketing management of AT&T's ESInetTM service. He also provides continuing product surveillance of emerging public safety technologies such as NG9-1-1, Text to 9-1-1, Geographic Information Systems (GIS), cyber security and improved location accuracy.
More
Titus currently represents AT&T on the National Emergency Number Association (NENA) Next Generation Partnership Program (NGPP) committee and has previously served on the Federal Communications Commission (FCC) Communications Security, Reliability and Interoperability Council's (CSRIC) Next Generation Alerting and the Common Alert Protocol (CAP) working groups.
Titus is a seasoned technical and business leader with over 30 years' experience in design, development and deployment of product solutions deployed in both public and private sectors. Currently he has received over 25 US patent awards in the areas of emergency services, text messaging, l, location based services, mobile alerting and wireless voice. He has provided expert commentary on wireless public safety and text messaging technology for business and trade media, including The Washington Post, New York Daily News, Federal News Radio, and Wireless Week.
He holds a M.S. degree in Telecommunications Management from the University of Maryland and a B.S. degree in Computer Science from Cleveland State University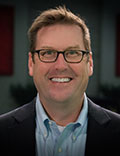 Adam Woodlief
Director of Engineering Services, UNC-TV
Adam Woodlief is the Director of Engineering Services at UNC-TV NC Public Media. A graduate of Methodist University in Fayetteville and NC State University in Raleigh, he has been in the broadcast television industry for over twenty years.
More

His career began at WRAL-TV in Raleigh NC where he was part of a regional Emmy winning engineering team that broadcast the "World's First All HD News Cast", as well as numerous other special projects and events. He has been a part of the Engineering team at UNC-TV for the last 15 years. As Director of Engineering Services, Adam has steered the focus to utilizing UNCTV's statewide network to inform the public and serve first responders during weather events and other emergencies.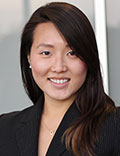 Soyeon Yu
Client Solutions Manager, Mark43
Soyeon Yu is a Client Solutions Manager at Mark43, where she works hand in hand with law enforcement and public safety agencies to implement cloud-based CAD and RMS software.
More

In this role, she researches current systems, processes, and policies in order to recommend efficient strategies for mass product launches, roll outs, and trainings. Prior to Mark43, Soyeon served as an Intelligence Analyst in the Counterterrorism Division at the FBI.