Stephen Beach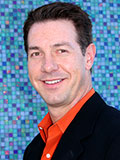 Strategic Solutions Engagement Manager
Motorola Solutions

As a Strategic Solutions Engagement Manager for Motorola Solutions, Steve provides thought leadership and strategic vision around Intelligence Led Policing.
More
The ability to leverage smart policing initiatives as a way to enhance an agency's current infrastructure and applications is key. Steve has been with Motorola Solutions for 4 years and leads the solutions sales team for the west. He resides in Phoenix and has led speaking engagements around the U.S. which focus on Smart Policing and Real Time Crime Centers.

Jeffrey Carl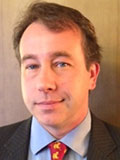 Director, Product Management, Advanced Mobility Solutions
AT&T Mobility Services, LLC

Jeffrey Carl is the director of product development in AT&T's public safety solutions organization. In his six years at AT&T, he has managed multiple public safety-oriented solutions including AT&T Enhanced Push-To-Talk, integrated cellular + mobile satellite products, and support for government secure mobile devices.
More
Jeffrey has spent 17 years in the telecommunications industry, and prior to AT&T held management positions in the satellite network solutions, business Internet access, transit and web hosting industries. He has previously been a speaker or panelist at a numerous telecom and public safety events, including IWCE 2013, Emergency Management All Hazards Seattle Summit 2012, Satellite 2010, Networld+Interop and ISPcon.
Rob serves as a Public Safety and Security strategist with specific expertise in defining market transition models based on technology utilization.
More
Having worked in the Public Safety field for technology providers, Rob advises clients on technology and migration strategies leveraging integration models and collaborative solutions. A nationally recognized Subject Matter Expert on NG9-1-1 and ESInet integration migration strategies, Control Room solutions and convergence strategies, Rob is an agent of change, an advocate and visionary for this industry, creating integration strategies which benefit first responders.

Jeffrey Cohen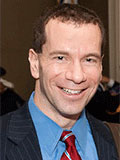 Chief Counsel – Law & Policy
APCO International

Jeffrey Cohen is the Chief Counsel for Law and Policy, and Director of Government Relations at APCO International. Prior to joining APCO, he served as a detailee from the Federal Communications Commission, for the Democratic staff of the House of Representatives Energy and Commerce Committee.
More
While on the Hill, Jeff was one of the authors of the public safety legislation enacted in February 2012, and worked on other communications issues including cybersecurity. Before his detail assignment, Jeff served as the Senior Legal Counsel to the Chief of the FCC's Public Safety and Homeland Security Bureau. In this capacity, Jeff advised the Bureau Chief on a number of public safety and homeland security issues. Jeff is a recipient of the FCC's Silver Medal Award, APCO's Leadership in Regulatory Service Award, and the National Emergency Number Association's Presidential Award.Prior to joining the FCC, Jeff was a partner at the Washington, DC telecommunications law firm of Wilkinson Barker Knauer, LLP, where he worked over ten years on wireless regulatory matters since graduating from the George Washington University Law School with honors in 1994. Jeff also holds a B.S. cum laude in electrical engineering from the George Washington University. Contact Jeff at cohenj at apcointl.org.

Michael Dougherty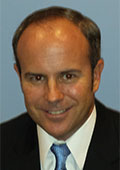 Regional Sales Manager
Harris Corporation
Michael J. Dougherty is the Regional Sales Manager for Harris' Public Safety and Professional Communications unit in the Pacific – West Region which includes California, Oregon, Washington, Alaska and Hawaii.
More
In this capacity, Mr. Dougherty brings over 15 years of public safety and public safety technology account management experience to his customers. He is based in the San Francisco Bay Area and works from the Harris corporate office in San Francisco, CA. Mike served as a volunteer firefighter and EMT in suburban Philadelphia and Washington, DC from 1998-2005. He has extensive experience with public safety communications systems including notification platform, Land Mobile Radio and LTE. He was the sales lead and account manager for "Alert SF", San Francisco's first text-based public safety and citizen notification and information exchange system. From the Harris San Francisco office, Mike manages an account team across Harris' Pacific five state region and directly manages accounts such as the SFMTA, Bay Area Rapid Transit District (BART), Monterey County, and others. He is Harris' regional contact for Firstnet. Mike is a tireless advocate for his customers and the first responder community. He earned an MBA from the Fuqua School of Business at Duke University, and a BA from Vanderbilt University.
Harris is an international communications and information technology company serving government and commercial markets in more than 150 countries. Harris is dedicated to developing best-in-class assured communications® products, systems, and services.

Jay English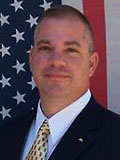 Director of Comm Center and 9-1-1 Services
APCO International

Jay has over 30 years of Public Safety, Technology and Management experience.He served on active duty with United States Air Force in airborne Electronic Warfare and Intelligence billets.
More
Prior to his Air Force service Jay served with the United States Marine Corps Reserve while attending college on a Military scholarship. Jay transitioned to a career in public safety and public safety technology after his active duty tour with the Air Force.
Jay has worked in a variety of assignments in Public Safety, including Police, Fire, EMS and Public Safety Command Staff positions. His experience includes Patrol, Investigations, and Command of two consolidated Police/Fire/EMS 911 Communications centers, a consolidated County-wide Fire-EMS communications center, Law Enforcement patrol divisions, and a County Detention facility. Jay also served for 9 years as a certified Firefighter and EMT for several jurisdictions in both volunteer and paid Reserve roles. He is currently employed as the Director of Communications Center and 9-1-1 Services for APCO International. He is also a member of the Emergency Response Team for the Seminole County (FL) Dept. of Public Safety under the Office of Emergency Management. Jay is also a member of the US Air Force Auxiliary, holding the rank of Lt Col and is currently billeted as an Operations Officer.
Jay holds a Masters Degree in Technology Management, a Bachelor of Science in Engineering, a Bachelor of Science in Liberal Studies and an Associate of Applied Science in Electronic Intelligence. He is presently enrolled in the US Air Force Air War College graduate studies program.

Traviss A. Green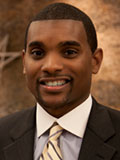 Principal Business Development Manager
Lockheed Martin Corporation
With fifteen years of experience in business development, program management, systems engineering and enterprise information technology (IT), Traviss Green has established a proven track record for performance excellence throughout every phase of the program lifecycle.
More
Traviss manages the capture, deployment and sustainment of emerging technology solutions for focus and priority programs and most recently was the special projects lead for a customer that manages the largest public engineering, design, and construction support agency in the world. His expertise in information technology (IT) management has translated into the ability to envision the business value of technology and drive measured innovation from concept through execution. He has led award–‐winning technology implementations, industry—recognized production service offerings, and supported a list of corporate focus and priority programs across the intelligence community, department of defense and civilian environments.Throughout his professional career, he was selected for multiple special recognition awards (SRA) acknowledging his demonstration of technical excellence, earned the designation as a Modern Day Technology Leader (MDTL) –‐ Black Engineer of the Year Award (BEYA) by the Career Communications Group, and was a two–‐time recipient of both the Celebration of Excellence (COE) and the prestigious NOVA Award for Leadership Excellence – the company's highest honors awarding technical achievement.Currently, he is the appointed advisor for Science, Technology, Engineering, & Mathematics (STEM) Innovation for Prince George's County Executive, Rushurn L. Baker III and was named among a distinguished list of Top 40 under 40 participants within Prince George's County. He earned the 2013 Community Innovator of the Year Award from Verizon Global for his work in founding Bowie State University's first Signature STEM program – the Education Innovation Initiative (EI2), and presently serves on several Boards including, Greater Prince George's County Business Roundtable, Prince George's County Social Innovation Fund, Bowie State University's College of Arts & Sciences, and Chairs the Board Executive Committee for Bowie State University's College of Education.
Jeffrey Johnson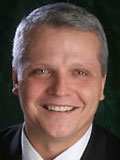 FirstNet Board Member
Jeffrey Johnson has an extensive public safety background, with broad experience at both the local and national level. Chief Johnson served as Chair of Oregon's Statewide Interoperability Executive Council, which is transitioning from four independent state-owned radio networks into a single interoperable modern voice and data network.
More
Prior to that, Chief Johnson was the Tualatin Valley Fire & Rescue Fire Chief/CEO for 15 years. Chief Johnson is very active nationally on public safety communications matters, and has served on the International Association of Fire Chiefs (IAFC) Board of Directors and served as President and Chairman of the Board. He is now CEO of the Western Fire Chiefs Association and served as a representative of the SAFECOM Emergency Response Council. He also serves as Chairman of Emergency Services Consulting International (ESCI), a company majority-owned by IAFC to provide emergency services consulting. Chief Johnson is a graduate of Concordia University.

Ned Kazor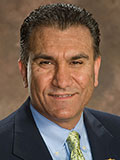 Sr. Director, Government Sales
Hughes Network Systems
Sales & Marketing executive with 30 years of successful and progressive assignments in the Telecommunications and the Software industries with experience in direct and indirect sales channel supervision, large account management, and marketing strategy development.
More
After receiving his graduate degree from the University of MD, Ned started working as a Sr. Systems Programmer at Unisys Corporation, and then joined AT&T Bell Labs in 1986 working on the Definity PBX platform. He then moved onto Sales in 1998 and held various progressive assignments at AT&T leading a team of 14 people selling Networking Solutions to Enterprises from 1992-1998 and responsible
He left AT&T to join Hughes in June of 1998 to develop and launch a new Reseller Channel Program and creating a new line of business for Hughes. He successfully developed a team and created a channel generating more than $40 million annually by 2006 at which time he joined the newly formed Government Solutions Group to jumpstart that line of business for Hughes. Within 2 years he'd signed the largest government customer for Hughes, namely Social Security Administration along with others such as the US Air Force, Air National Guard, Air Force Reserve, and FAA to name a few.
Ned's extensive experience in wireline, wireless, and satellite communications along video and content distribution uniquely qualify him to help his clients with the best of breed connectivity and digital media solutions.

TJ Kennedy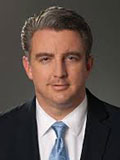 FirstNet Deputy General Manager

Named Deputy General Manager of FirstNet in July 2013, TJ Kennedy is a seasoned executive with a unique blend of leadership, coalition building and technology expertise as well as hands-on experience in police, fire and emergency medical services.
More
He began his career as a firefighter and emergency medical technician (EMT), and then became a state trooper for the Utah Highway Patrol. He later became a paramedic in the fire department as well as a flight paramedic for Life Flight in Salt Lake City. He then joined the commercial business sector, where he advanced to senior-level positions that honed his management and executive leadership skills.
Known domestically and internationally for his expertise in critical infrastructure and large-scale public safety projects, he has focused on facilitating collaboration among local, state and federal authorities to deliver projects of national importance such as Public Safety for the Salt Lake Olympics as a dedicated team member of the Utah Olympic Public Safety Command. At FirstNet, Mr. Kennedy is also responsible for user advocacy including stakeholder outreach, consultation, and state plans, as well as government affairs and communications.
Prior to joining FirstNet, Mr. Kennedy was the Director, Public Safety and Security for Raytheon Company, where he was President of JPS Communications, a subsidiary focused on radio interoperability solutions. Earlier, Mr. Kennedy was a Vice President at Science Applications International Corp. (SAIC), a defense contracting company. At SAIC he led deployments of large integrated public safety programs including systems for the 2004 Olympic Games.
While working with the Utah Department of Public Safety, Mr. Kennedy served as a state trooper and was on the SWAT/Special Operations team. He was also a flight paramedic with Intermountain Life Flight in Salt Lake City and is a past president of the International Association of Flight and Critical Care Paramedics. Mr. Kennedy was a firefighter and a paramedic for Park City Fire District, and graduated from the University of Utah.
Paul Lang leads Programs, Industry Verticals and Customer Segmentation for Unify. He has been in the Communications Industry for over 20 years with Executive positions in Marketing and Products delivering messaging and solutions, that consistently grow both revenue and market share
More
Previously, Mr. Lang held Executive roles at LiveOps, Genesys and Aspect in both North America and the UK. Mr. Lang hold a Bachelors Degree from South Bank University in London, and lives in Ashburn, Virginia

John Lawson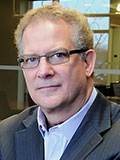 Principal, Convergence Services, Inc
Senior Advisor, Mobile Emergency Alert System
John Lawson is a principal of Convergence Services, Inc., which provides strategic consulting and venture facilitation in the digital media industry, and is the senior advisor to the Mobile Emergency Alert System (M-EAS).
More
He has deep expertise in spectrum policy, hybrid wireless networks, and next-generation emergency alerting. Based near Washington, DC, with clients that include LG Electronics and the Corporation for Public Broadcasting, the firm specializes in what it calls, "techno-political strategy."John is an innovator in the use of digital television spectrum for programming diversity, mobile video, and emergency communications. In 2005, as president and CEO of the Association of Public Television Stations (APTS), John negotiated the most extensive agreement in the history of the broadcasting industry for the carriage of multiple digital programming streams on America's cable systems.His experience in emergency communications dates to 2001. At APTS, John led field-testing of the first packetize digital emergency alerts, a precursor of the U.S. Integrated Public Alert and Warning System. With LG, PBS, Harris Broadcast (now GatesAir), and other companies, John pioneered the development of Mobile EAS, which was adopted as an open technical standard in 2013.At APTS, John also led efforts that secured nearly $500 million in federal funding for the next-generation satellite interconnection system for PBS stations, the digital conversion of over 300 local stations, and infrastructure to support the Wireless Emergency Alert System from the wireless carriers.
John has been appointed by three different FCC chairmen to serve on three different homeland security advisory committees. He also served on the board of the National Association of Broadcasters from 2009 to 2010 and the board of the National Coalition for Technology in Education and Training in the late 1990's. He earned BA and MA degrees in International Studies at the University of South Carolina and is a proud member of APCO International.
Susan Merritt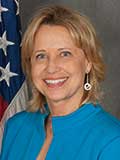 Chief Information Officer
San Francisco Police Department
Susan Merritt leads San Francisco Police Department's Technology Division. In this role, Susan is responsible for creating and executing the technology roadmap for the SFPD.
More
The technology roadmap includes all technology used by the police – from police vehicle technologies to workstation and mobile technologies, networks, telecommunications, and all enterprise law enforcement applications.Prior to her current role, Susan was Director of IT for Cisco Systems, leading Cisco's Advanced Services Division Technology organization, and then leading Cisco's Marketing Technology organization.Susan spent 15 years with Accenture working on multiple client engagements in the Financial Services industry, as well as internal roles as Global Product Director for Accenture's Technology Support and eSupport Divisions.Susan holds an MBA from the University of California at Los Angeles as well as a B.S. from the University of California at Berkeley.

Scott Montgomery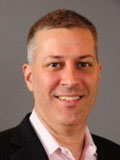 VP and CTO-Public Sector
McAfee, part of Intel Security
Scott Montgomery is vice president and chief technology officer of public sector at McAfee, part of Intel Security.
More
He runs worldwide government certification efforts and works with industry and government thought leaders and worldwide public sector customers to ensure that technology, standards, and implementations meet information security and privacy challenges. With more than 15 years in content and network security, Montgomery brings a practitioner's perspective to the art and science of cybersecurity. Prior to its acquisition by McAfee, Montgomery ran worldwide product management and corporate strategy for Secure Computing.

Jay Nath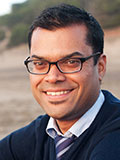 Chief Innovation Officer
Office of Mayor Edwin M. Lee
City of San Francisco

As the Mayor's Chief Innovation Officer for San Francisco and White House Champion of Change, Jay Nath works with the tech community and the public to help make government more transparent, efficient, and constituent-focused.
More
Under his leadership, the Mayor's Office of Civic Innovation launched the first of its kind Entrepreneurship-in-Residence program in collaboration with the White House, offering an on-premises incubator at City Hall, meant to apply startup ingenuity directly to pain points within government itself. Inspired by the Presidential Innovation Fellows, Nath created the Mayor's Innovation Fellowship program where cross-sector leaders spend one year in City Hall working on high impact projects. He also established the nation's first open source software policy for a city government and authored open data legislation that requires City departments to make nearly all non-confidential datasets available to the public, mandates department-level data coordinators, and creates a chief data officer position for the city. Prior to public service, Nath worked at a San Francisco startup as a senior product manager and at PricewaterhouseCoopers as a senior consultant.Quote: "We are working to change how people view their relationship to government so that active participation is the new normal. It's through greater engagement and enrolling citizens in the process of creating new solutions that we can drive greater trust in government."Media Appearances:
CNN, Atlantic Cities, TechCrunch, VentureBeat, Fast Company, Good.is, SF Chronicle, SF Examiner, GovTechSpeaking Engagements:
Keynote @ Chief Innovation Officers Summit – SF, Code For America Summit, UCLA Luskin School of Public Policy, TEDx SOMA,

Steve Noel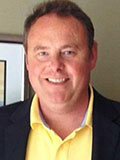 State SWIC & DAS
Office of the Chief Information Officer
State of Oregon
State Point of Contact for FirstNet

With management and leadership background in the telecommunications field for the past 30 years, Steve has broad –based experience in project management, implementation, and operations of wireless and data network systems.
More
Steve has worked with the State of Oregon for the past 18 years – primarily in the Information Technology area with the Oregon State Police, Department of Administrative Services, and The Department of Transportation. Steve has worked extensively with public/private partnerships and outreach efforts associated with FirstNet and public safety communications Interoperability.Currently Steve is the Statewide Interoperability Coordinator (SWIC) and the FirstNet Single Point of Contact (SPOC) for the State of Oregon. In this position he is involved with a number of different committees working on national and regional public safety communications issues. Steve is the Chair for the Regional Emergency Communications Coordination Working Group for FEMA Region X, and current Vice Chair of the National Council of Statewide Interoperability Coordinators, and participates as a member of the APCO Broadband Committee. He is active in Oregon's early planning for a public safety broadband network, and is continuing this work on FirstNet. Steve has an undergraduate degree from Norwich University and graduate degree in Applied Information Management from the University of Oregon.

Edward Parkinson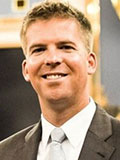 FirstNet Director of Government Affairs

As the FirstNet Director of Government Affairs, Edward Parkinson is responsible for intergovernmental relations with local, state and federal organizations.
More
Previously, Mr. Parkinson served for five years as a Professional Staff Member for the House Homeland Security Committee, then chaired by Rep. Peter T. King of New York. During this period, Mr. Parkinson's primary responsibility was in the field of first responder telecommunications. He also worked on issues including border security, emergency preparedness, cybersecurity and investigations into waste, fraud and abuse of government resources.
Previously Mr. Parkinson served as an associate at Kearsage Global Advisors, an advocacy firm, and a research analyst at McKenna, Long and Aldridge, an international law firm specializing in public policy.
Mr. Parkinson earned a BA and an Honors postgraduate degree in International Affairs from the University of the Witwatersrand in Johannesburg, South Africa. In 2012 he completed a Masters degree in Liberal Studies from Georgetown University with a focus on International Affairs.

Bill Schrier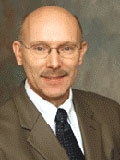 Senior Policy Advisor
Office of the Chief Information Officer (OCIO)
State of Washington
State Point of Contact for FirstNet
In this capacity, he chairs the State Interoperability Executive Committee (SIEC), serves as the primary point of contact for the FirstNet effort in the State, and evangelizes open government through efforts like 
data.wa.gov
.
More
Schrier retired in May, 2012, after over 8 years serving as Chief Technology Officer (CTO) for the City of Seattle and director of the City's Department of Information Technology (DoIT). In this capacity he managed over 200 employees and budgets up to $59 million support City government technology, and reported directly to Mayor Michael McGinn.
Schrier was named one of Government Technology's 25 Doers, Dreamers and Drivers in 2008 (
www.govtech.com/gt/articles/268508
), and a Computerworld Premier 100 Leader for 2010 (
www.computerworld.com/spring/p100/detail/279
). He was president of the Metropolitan Information Exchange (MIX), a premier organization of 60 major City and County CIOs, in 2009-2010. Schrier has been named a fellow of the Public Technology Institute (
www.pti.org
) and the Public Safety Foundation of America. He presently chairs the Broadband Committee of the Association of Public Safety Communications Officials (APCO – 
www.apcointl.org
).Schrier writes a blog about the intersection of information technology and government, how they sometimes collide but often influence and change each other. It can be found at
www.chiefseattlegeek.com
 or 
www.digitalcommunitiesblogs.com/CCIO/
. He tweets at
www.twitter.com/billschrier
.Schrier is a retired officer with the U.S. Army Corps of Engineers. He holds a Masters in Public Administration from the University of Washington.

John Snapp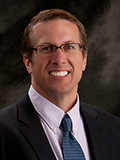 Senior Technical Officer/VP
Intrado Inc.
As Senior Technical Officer for Intrado, John Snapp provides strategic direction and coordination of technical activities within the wireless group and between various departments within the company. Mr. Snapp was the Chief Architect behind Intrado's Text to 9-1-1 initiative.
More
Mr. Snapp has worked in the wireless industry since 1991 and holds 16 patents. He has directed technical groups for various wireless carriers in both engineering and operational roles. He was lead architect in several network nodes that allowed AT&T Wireless to seamlessly bridge the gap between TDMA and GSM. Also at AT&T Wireless, John led the initial wireless deployment of E911 Phase 1 as well as the design, development and deployment of E911 Phase 2. In addition, Mr. Snapp has served as Vice-Chair of TR-45.2 AHES, the standards body responsible for Wireless 911 Phase 2 standards development. Mr. Snapp is a frequently requested speaker at various industry events.Mr. Snapp is frequently invited to speak at industry associations and meetings. In 2014, he served on the IWCE NG9-1-1 panel, and spoke at the APCO Broadband Summit & Emerging Technology Forums, NASNA 911, NENA 2014, APCO 2014, NENA Critical Issues Forum.

Karen Wong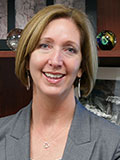 Assistant Director, Public Safety Communications
State of California
State Point of Contact for FirstNet

Appointed by Governor Brown, Karen oversees the strategic framework and tactical direction for the State's public safety communications systems including California's 9-1-1 network infrastructure supporting 459 Public Safety Answering Points; the State's public safety microwave network; and the State's public safety agencies first responder land mobile radio systems.
More
PSC has approximately 350 employees, a budget of $67 million, and $120 million local assistance reimbursement. In addition, Karen is the State's contact to work with the First Responder Network Authority (FirstNet) on the National Public Safety Communications Broadband Network.Karen is a current member on the Federal Communications Commission's Communications, Security, Reliability and Interoperability Council, the California Law Enforcement Telecommunication System Advisory Council, and serves as Vice Chair on the Bay Area Radio Interoperability Communications (BayRICS) Authority Board of Directors. Karen was previously appointed by Governor Schwarzenegger as Deputy Director, Public Safety Communications Division and has 21 years with the California Department of Corrections and Rehabilitation serving in Career Executive Appointments in the Health Care Division; Office of Correctional Safety; Office of Environmental, Health and Safety, and Office of Telecommunications.​